The Shocking Truth about Who Gets Your Kids, Your House, Car, and Money When You Die
By: TaQuita M. Hogan-Claiborne, Esq.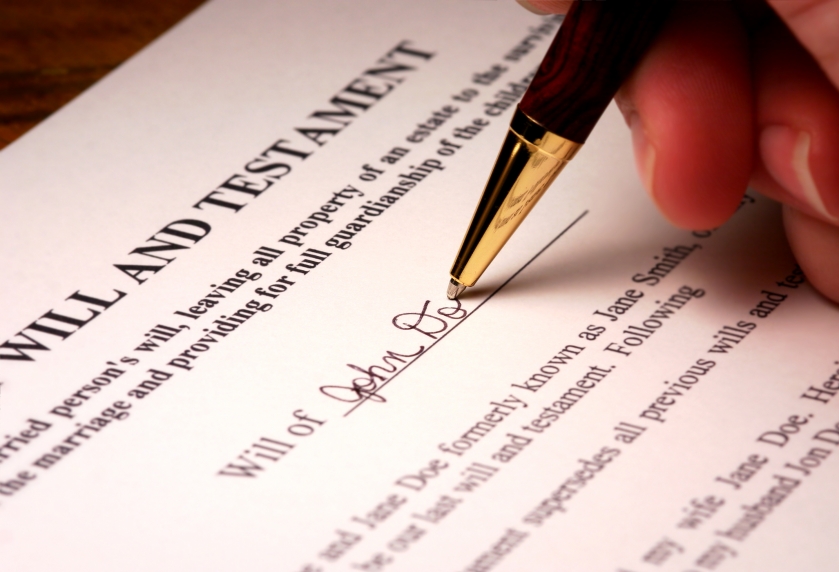 It's the law. If you die without a will, your house, your car, your kids, your money and everything else you own will go where you may not want it.
What does that mean?  That your wife or husband may not get everything or may not get anything!  Or that your kids may compete with your parents for your property.  Or that the State of Texas, instead of your favorite charity, may get it all. 
If your children are small (and your spouse has passed before you), the State will choose their guardian.  And what if you don't want a child or a cousin (yes, it can happen) to get what you've taken years to achieve?  It's too bad-there's nothing you can do!
What else can happen when you don't have a will?  A real mess!  Bad feelings between your spouse and your kids.  Or between your spouse and your parents.  A "will" that you never wrote may "suddenly" appear, making your family miserable-but some lawyers very happy.
I know thinking about a will is upsetting.  It means admitting we won't be around forever, accepting we are mortals.  Death affects us in many ways.  It never is timely.  Death confronts the family with bereavement, with the need to readjust emotionally and financially, and often with an unknown future.  This is why many people put off making a will, sometimes until it's too late.  But, by then it's no longer up to them. 
If you own anything-a car, a house, bank accounts or jewelry-and care about your family-you should have a will. 
Let me begin with an explanation of what happens to the property of a person in Texas who has a will at the time of their death.  That person, through his or her will, have left evidence of how he or she wishes his or her estate to be distributed, and will have named an "executor," a person designated to be in charge of carrying out those wishes. In a process known as an "independent administration," the executor will attend a short hearing at the probate court to "prove up " the will, accomplished by showing the court the will document and answering some basic questions.  They will then receive "letters testamentary" that allow them to manipulate the estate holding so that they may gather the assets of the estate, pay the debts of the estate, and distribute the remainder in the manner detained in the will.  Finally, the executor will file an "inventory" detailing their activities.  This is a simplified version of the probate process, but these are essentially the steps involved.  If the estate is complicated, the estate can reasonably compensate the executor for their time and expenses. 
Now, I know you are wondering what happens to your property if you die without a will?
Well, let me break it down for you.  When someone dies without a will, the state of Texas has a form of will for him or her.  In a process know as "dependent administration," Texas statutes and laws determine how such estate will be distributed.  Thereby, if you have not left instructions on how you want your estate distributed and who will administer or supervise that process, the probate court will supervise the process.  Each step of the gathering of assets, payment of debts, distribution of remaining assets, and other details of administration of the estate will need to be formally presented for the judge's approval.  This could incur costs to the estate in the administrative process and the delays in distributing the estate proceeds to the children and heirs.  
Or if he has surviving family members, someone must assume responsibility of administering and distributing without any instructions or directions and with little or no regard to the deceased wishes. 
I know I know. Now, you are wondering why should you bother?
Let me tell you why…
1. You have minor children.
You should write a will in order to appoint guardians for your minor children, and trustees to manage their property.  If you do not leave a will, the court may appoint a guardian whom you would not have chosen. (Upon the death of only one parent, the surviving parent obviously continues as the natural guardian, so the problem only arises if both parents die in a common accident, or if one parent has already died.)  Or one of your family members may chose to take over your property and refuse to implement a fair division between your children and any of your other family members. 
You also need to write a will in order to prevent minor children from inheriting real estate outright.  Although minors have the legal capacity to own property, they do not have legal capacity to manage it, if your children inherit a share of your house, your spouse would not be able to sell it, rent it out, or even refinance the mortgage without a  court order.  Getting court orders are expensive and time consuming. 
2. You have no children.
You might be surprised that your spouse might not inherit everything.  If you and your spouse have no children, your parents or siblings might inherit part of your home and become co-owners with your spouse.  Your spouse would not be able to sell the house or other property without their permission, and vice versa.  With a will, if you want to remember your parents or siblings, it is best to leave them specific pieces of property that they will not have to share with your spouse.  A will can accomplish this.
3. A will protects your spouse.
Most people assume that, if a husband or wife dies, everything goes to the survivor of them.  Yes, this is true of community property (jointly owned property; all property acquired during marriage), but in Texas, your children will inherit a two-thirds interest in every item of your separate property (property owned before marriage or acquired during marriage by gift or inheritance).  The remaining 1/3 of each item of separate property will go to you spouse, but if the item is real estate, it returns to your children upon the death of your spouse. 
If you have children from a previous marriage, those children will inherit your entire half of the community property.  Your spouse will keep his/her half of the community property.  Your separate property will be distributed the same way as in the previous paragraph. 
If you have no children, your spouse will inherit all of your community property.  Separate property that is not real estate will also go to your spouse.  Separate real estate will go half to your spouse, ¼ to your mother, and ¼ to your father.  If either parent is deceased, that parent's share will be inherited by your siblings if they survive you.  If none of your parents or siblings (or their descendants) survives, you, THEN your spouse will inherit all of your separate real estate.
So, if you are married and want your spouse to own everything after your death, it is usually a good idea to have a will that says that and avoid any possible confusion or surprise. 
4. You have a pretty large family.
All of your heirs will become co-owners of every asset your own, and will have to manage all the property together.  They may not live in the same state, or they may not be able to agree on what should be done with the property.  The more heirs you have, the more money and effort they will have to spend trying to get organized.  Someone always take more or receive less that attended. With a will, you could leave specific assets to specific heirs, or put one heir in charge as trustee for the others.  Either way, writing a will would save your heirs significant hassle and expense.  It could also prevent major feuding.
5. You are not married (this includes being widowed or divorce).
Your children will inherit all of your property equally.  If any child has died before you, his share will go to his children.  If he has no children, it will go to your surviving children.  If a child of a deceased child is also deceased but has left a child of his own (your great-grandchild), that great-grandchild will get its parent's share of your estate, and so on. 
If you have no children, your father will inherit half of your property, and your mother will inherit the other half.  If either parent is deceased, your siblings will inherit that parent's share.  If a sibling is deceased but has left a child (your niece or nephew), that child will inherit its parent's share, and so on.  If a sibling is deceases and has left no children, the surviving siblings will take that sibling's share.  If neither of your parents nor any of their descendants survives you, your grandparents will inherit your estate equally.  If either grandparent has died before you, their descendants (your aunts, uncles, and cousins) will inherit your estate. 
6.  None of the above.
Even if you do not think you need a will, you should still consider estate planning to draw up powers of attorney for health care and financial matters.  If you became incapacitated by illness or accident, a power of attorney will be critical to allow a friend or loved one to pay your bills and make health care decisions for you.  These simple documents not only save money later, but they give you the security of knowing things will be taken care of in your absence.
It is only fair to explain to you when a will does not help?
There are some situations in which having a will won't necessarily change anything.  A will only controls the assets in your name that are part of your estate, and there are many types of assets which are not part of your estate and do not pass under a will.  For example, life insurance, annuities, retirement benefits, and individual retirement accounts are usually payable to a named beneficiary, so they are not part of the estate and are not controlled by the will.  Also, property owned by a husband and wife as tenants by the entireties, or by one or more persons as joint tenants with rights of survivorship, automatically passes to the surviving owner, regardless of what is said in a will.  If all of your assets are jointly owned with your husband or wife, life insurance, and retirement benefits, a will may not be needed if your husband or wife survives you, but may be needed if you both die together. 
You may benefit more into looking into other estate planning devices such as living wills, living trusts, or other devices specifically tailored to suit your needs.
If a will is not properly executed, it may not be upheld in court.  A will that is not upheld or proved in court is denied probate.  In this event, the decedent's property passes to his or her heirs as if he or she died without a will.  I personally witnessed such an event when my father passed away.  The court ruled that part of his will was invalid because it did not meet all the basic requirements of a properly executed holographic (handwritten) will.  Also, his unadvised decision to appoint two executrixes of his estate caused confusion and family feuds among his children and siblings.  Only a very small percentage of the things he requested were ever implemented according to his handwritten will.  Again, this further emphasizes how important it is to execute a will that meets all legal requirements so that property will pass as you wish.  
What does all this really mean?  You know, I am glad you asked. 
You need an estate plan!  A properly prepared plan that meets your goals.  It allows you to plan for your disability and direct the distribution of your property.  It saves tax dollars, professional fees and court costs.  And, most importantly, it keeps you in control of your own affairs.  A properly designed estate plan can… provide instructions for your care and that of your loved ones in the event of your disability.  Be effective if you move to or own property in another state.  Avoid probate and its associated legal costs.  Keep your affairs private and confidential.  Control all your property, including pensions and life insurance.  Allow you to leave explicit instructions for the care of your love ones.  Create protective trusts for your young children, disadvantaged children, adult children, and grandchildren. 
So, why am I willing to invest my time, effort and money in helping you?
I still hurt after what occurred to my father.  All that time and effort he put into trying to protect his estate that he worked many years, diminished just within a couple of months.  None of that would have happened if my father had the information and advice I am willing to provide you.  Thereby, my goal is to make sure that none of my family, friends and love ones ever has to go through what my siblings, aunts, and uncles, and I went through after my own father's untimely death.  Also, I know if you can benefit from instituting a will and other estate planning instruments and the protection each provide, you'll do it with me—assuming I have done a good job of explaining everything to you.  Maybe you do not want it immediately, but chances are you will sooner of later.  So that's why I am willing to invest in you first. 
What all this really means to you is that I am offering my services for you to receive a "no obligation" education and evaluation of your estate which includes a FREE Estate Planning Kit (checklists, questionnaires, forms, etc.) for you to use to personally evaluate your current situation, understand your options, and plan your future. 
And, as a special incentive for you to act now, I will provide you a "$250 Estate Planning Discount!"  All you have to do is to call me at 281.340.2054 and schedule an appointment for the FREE evaluation and let me know you want your "$250 Estate Planning Discount".
Call Now, this way you will get the protection you need so you and your loved ones can have the peace of mind you deserve.
I look forward to speaking with you.
P.S.  Maybe you are considering my complete "Estate Plan Package" for a just a nominal fee, just let me know!  This package includes your Estate Plan Kit (checklists, questionnaires, forms), Last Will and Testament, Living Will, Self Prove Affidavit, Health/Medical Power of Attorney (Proxy), Trusts, Schedule of Assets, Insurance/Pension Data, Document Locator Form, Notification List, and Funeral Requests, and much more.
Categories: Real Property, Will, Probate, Estate Planning